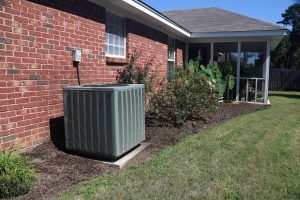 You've heard that you need to have a clean HVAC unit. And even though you know you should, you don't get around to replacing the filter or cleaning out the evaporator coil often enough. Not only is a dirty HVAC unit bad for your personal health by failing to filter out dirt and allergens, but it could also eventually lead to costly system repairs or HVAC replacement.
HOW DOES AN EVAPORATOR COIL GET DIRTY?
Dirt travels into the condenser from the outside of the unit and eventually makes its way into your evaporator coil. A dirty evaporator coil will ruin your home comfort. The evaporator coil sits above your blower on a gas furnace, or below the blower if you have an all-electric heat pump system with an air handler. It's normally located in your attic, basement/garage area, closet, or crawl space.
The primary job of the evaporator coil is to heat up in the winter or cool down in the summer. Air from the blower moves across your coil and then flows through your duct system into your home. A dirty or stopped-up evaporator coil lowers airflow, causes higher power bills, reduces system efficiency, and shortens the life of your HVAC system.
WHAT TO DO ABOUT A DIRTY EVAPORATOR COIL
It's not enough to simply change your air filter regularly, although doing it is a huge benefit for your system. Over time, all evaporator coils become dirty or stopped up due to dust particles in the air stream of your ductwork. You need an HVAC professional to come out regularly to properly and thoroughly clean the evaporator coil. Remember, it's the simple things that provide years of worry-free home comfort.
CONNECT WITH OUR HEATING & COOLING FAMILY
Over the last 25 years serving Chelsea, Pelham, Alabaster, and other areas of Shelby County, we've seen a lot in the heating and air conditioning business. Normally, though, the culprits of HVAC problems are simple — like a dirty evaporator coil.
If you suspect you might have a dirty AC coil, or you're interested in preventative maintenance on your unit, we're ready to serve you. Let us come out and clean your evaporator coil and other major components — it's inexpensive and quick. We can work around your schedule, and weekends are not a problem!
Contact us to schedule a full evaporator coil cleaning today.