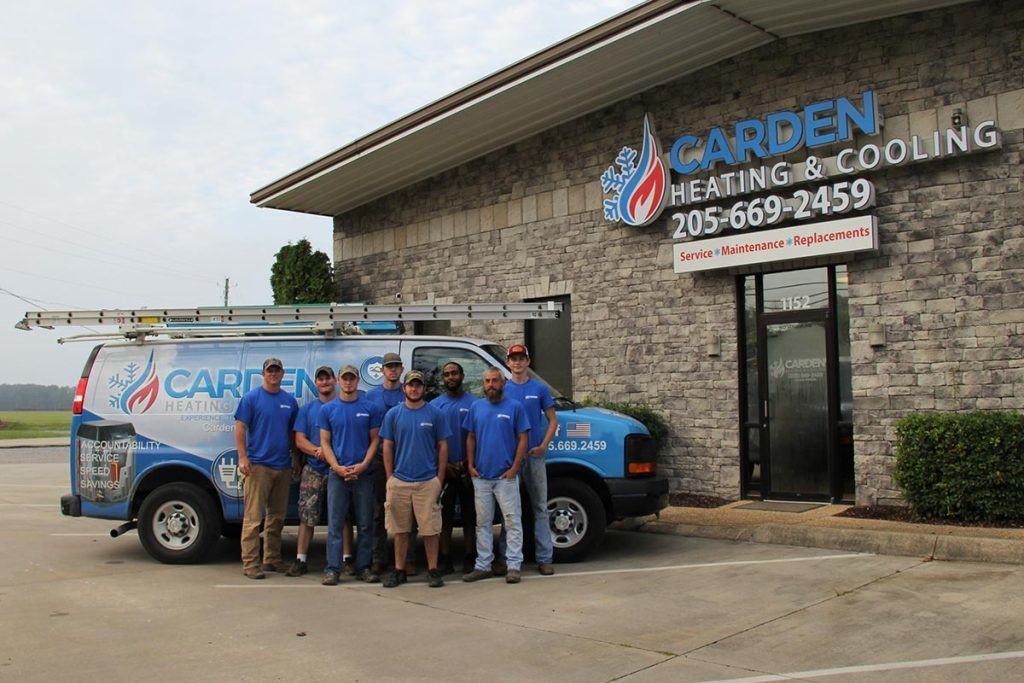 Carden Heating and Cooling provides reliable expert heating and A/C services to residents in Shelby County, from Pelham and Chelsea Park to Brook Highland and beyond.
As a family-owned business, we believe in family. Home is where the heart is, but it's also where the family is, and it should be a place of peace and comfort. That's why we got into the heating and cooling business: To provide comfort for families in our communities, no matter what the weather's like outside.
The people who provide service to your home aren't just trained experts with decades of experience; they're also members of your community. Our kids are growing up with your kids; we go to church together; we enjoy a day at the park with your family. Our close community bonds set us apart from everyone else – and so does our relentless focus on superior customer service.
We offer a variety of ways to get the heating and cooling services you need while also protecting your budget and cutting energy costs.
Our energy savings agreements (ESA) offer a common-sense way to maintain your home, extend the life of your equipment, and maximize not just efficiency but also comfort.
We also offer home comfort enhancements to optimize your home's environment. And our ongoing maintenance and replacements service is second to none because we take the time to protect your home's assets – and your budget – so you can avoid spending more than you need to.
We invite you to talk to us to learn more about what we can do for you or to get a quote. From our family to yours, we promise to do our best to give you the comfort you deserve.
Customer Reviews
Our customers speak for us
Carden is a great company, they have been doing the maintenance on our 2 units and are always very communicative and on time. They also did a duct test, duct repairs and installed a ductless HVAC unit and we couldn't be happier with their results and the service. I highly recommend them!
They were lifesavers in the midst of one of the hottest days of the summer. Very detailed in helping me understand the issue and rapidly resolving it. Kyle was great! Thanks Carden Heating & Cooling!
We have used Carden Heating & Cooling for 20 years. They do regular maintenance on our personal units as well as all our new home installs with our construction company. When my mom's old dinosaur finally died (after they patched it for years) I called & they came! They were out the next day with a new unit & had her up & running. Their customer service is 2nd to none. From Sara & Amanda in the office to Simon & each of their highly trained technicians, thank you for a job well done!